Introduction of intelligent door lock
Release date:2017-08-08 Reading times:5225
With the update and iteration of lock, the fingerprint code lock has entered people's eyes.Fingerprint combination lock can be said to be the computer technology and the combination of the traditional process, using the fingerprint uniqueness, through fingerprint identification to distinguish the identity of the characters, enabling users don't have to carry keys, itself is a special "keys", solved the problem of the convenience and safety greatly.In developed countries in Europe, the United States, Europe and the United States, Japan and the republic of Korea and other countries, smart fingerprint lock has been popularized and become the guardian of people's home life.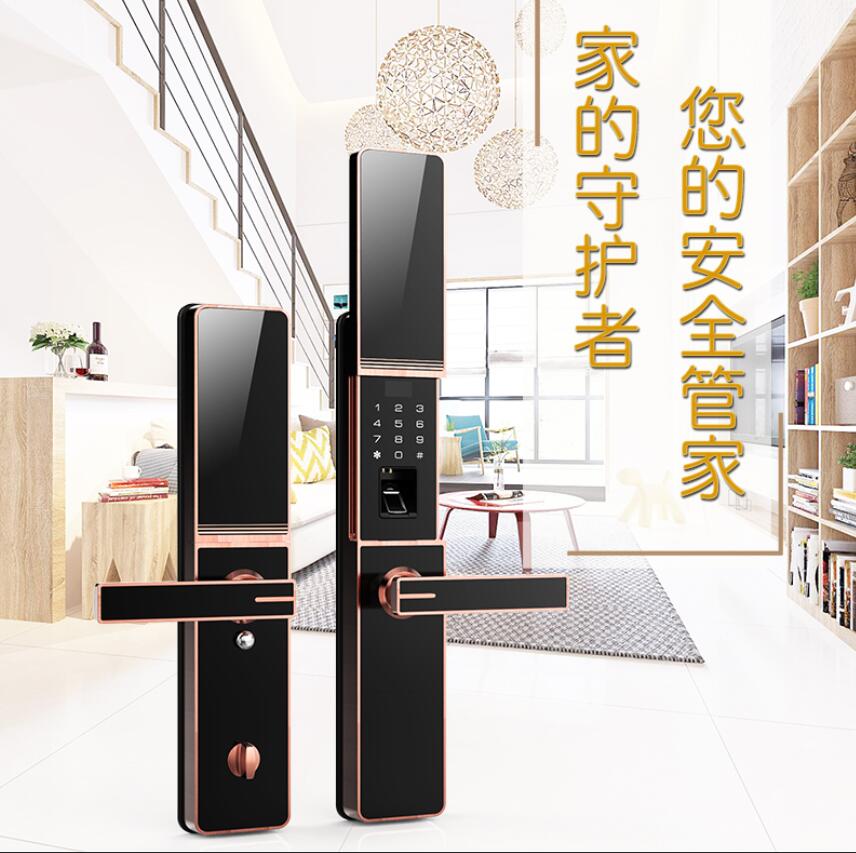 Advantage Of The Program
We produced a variety of identification of intelligent door locks, including T66 intelligent door lock is made of thin zinc alloy design, put an end to the clink damage, with lock-picking automatic alarm function, class C lock core, greatly increase the safety performance, four shaft balance slide, more beautiful.The smart hand adopts Japanese raw material spring and double bearing. It is light and never hangs down.Cool black, rose gold, high grade gold, tech blue, etc.The quality of military industry is intelligent in high-end hotels, apartments for short and long rent, residential communities, enterprises, etc., which is widely recognized and loved by the public.
Fingerprint lock
The intelligent door lock adopts military intelligent chip and semiconductor biofingerprint sensor to prevent duplication.Able to identify a wide range of age, accurate and rapid identification of wet and dry fingerprints.
Anti - prying virtual password
Under the condition of open the door to enter the password next to someone, you can enter a password to unlock, this password is different from ordinary password technology, when the user to open the door, but in the real password gibberish, and increased at real password protection function (support 30 virtual password)
User management
Information management improves the convenience of fingerprint locking.Relatives need to stay for a few days when they come to the home. As long as the fingerprint of relatives is entered into the fingerprint lock, relatives can open the fingerprint lock freely, which is very convenient.When relatives leave, they can't open the door without deleting their fingerprints.If you have a nanny at home, delete the nanny's fingerprint after she quit her job. She can't open the lock.
The lock mode
The T66 smart lock integrates fingerprint unlock, password unlock, swipe card unlock, key unlock, and can also upgrade the remote authorized unlock function to bid farewell to the key opening era.
Other series
The T80 smart lock series with the updated face biometrics function will open the door of intelligent life through face verification.